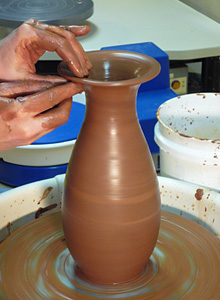 Classes are $24 each, taking as few or as many as you like. Please call (530) 626-3871 for my most current class schedule.
This fee includes instruction, the use of tools and pottery wheels, aprons, several different kinds of clay, over 60 glazes, and firing.
You don't need to bring anything, except perhaps pictures or sketches if you have a particular project in mind.
I charge an extra materials fee of $3 per pound, fired weight, if you average more than 1 pound of fired clay per class.
Current prices are good through June 2019.